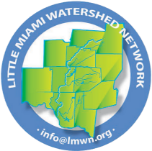 The river is the backdrop to our adventures,
the guidepost of our present
and the pathway to our future.
Become a member of the Little Miami Watershed Network
To promote stewardship, facilitate communication, and build partnerships across the watershed.
A sustainable, high quality Little Miami watershed for people and wildlife, now and in the future.
More than any other activity, people are hiking, walking, paddling and riding bikes along the river, just to take her in and enjoy the environment.
People love the river, as she is.
Now more than ever, the river needs someone to speak for her.  Someone to look out for her and protect her. The Little Miami River needs someone to stand for her now, so she can continue to stand at our sides for generations to come.
The Little Miami Watershed Network is working to speak for the river and protect her for years to come.
Can we count on you to support our mission?
Since 2010, we've pulled out more than 28,500 pounds of trash and more than 1,000 tires from the river. We've worked to keep the river clean and sustainable. We've told her story and represented her voice, passionately working to welcome the community and protect her future.
Stand with us. Lend your voice to the cause. Help us speak for the river.
Email info@lmwn.org for more information on how to help.